Rental rates include:
unlimited mileage, top and side cases, motorcycle navigation Garmin Zumo 395, third party liability insurance and comprehensive vehicle insurance, security lock, 24hr support service, touring suggestions, luggage storage.
Rental bikes can be used to ride in Slovenia, Croatia, Austria, and Italy. For Bosnia, Switzerland and Montenegro you have to pay €50 insurance fee.
BMW F 800R
Engine: 2 cylinder, 798 ccm
Power: 67 kW (90 KM)
Weight: 177 kg
Year: 2015
RENTAL RATES:
1-2 days: 100 EUR/day
3-6 days: 88 EUR/day
7-14 days: 79 EUR/day
15+ days: 75 EUR/day
*Safety deposit: 1200 EUR
---
HONDA 800 CROSSRUNNER
Engine: 4 cylinder, 782 ccm
Power: 75 kW (102 KM)
Weight: 212 kg
Year: 2011
RENTAL RATES:
1-2 days: 100 EUR/day
3-6 days: 88 EUR/day
7-14 days: 79 EUR/day
15+ days: 75 EUR/day
*Safety deposit: 1200 EUR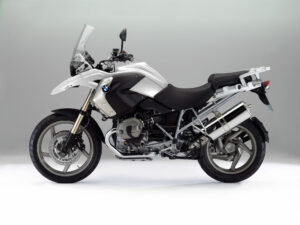 BMW R1200GS ESA
Engine: 2 cylinder, 1170 ccm
Power: 81 kW (110 KM)
Weight: 229 kg
Year: 2011
RENTAL RATES:
1-2 days: 120 EUR/day
3-6 days: 110 EUR/day
7-14 days: 100 EUR/day
15+ days: 95 EUR/day
*Safety deposit: 2000 EUR
---
BMW F 700GS
Engine: 2 cylinder, 798 ccm
Power: 55 kW (75 KM)
Weight: 186 kg
Year: 2013
RENTAL RATES:
1-2 days: 100 EUR/day
3-6 days: 88 EUR/day
7-14 days: 79 EUR/day
15+ days: 75 EUR/day
*Safety deposit: 1200 EUR
HONDA NC750XA
---
Engine: 2 cylinder, 670 ccm
Power: 35 kW (48 KM) A2
Weight: 190 kg
Year: 2014
RENTAL RATES:
1-2 days: 90 EUR/day
3-6 days: 80 EUR/day
7-14 days: 74 EUR/day
15+ days: 70 EUR/day
*Safety deposit: 1000 EUR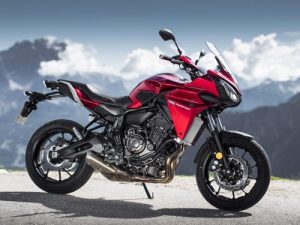 YAMAHA 700 TRACER
Engine: 2 cylinder, 689 ccm
Power: 55 kW (75 KM)
Weight: 175 kg
Year: 2016
RENTAL RATES:
1-2 days: 90 EUR/day
3-6 days: 80 EUR/day
7-14 days: 74 EUR/day
15+ days: 70 EUR/day
*Safety deposit: 1000 EUR